Main content starts here, tab to start navigating
Valentine's Day at Noona
Celebrate Valentine's Day with your special someone at Gwinnett County's most Romantic Restaurant.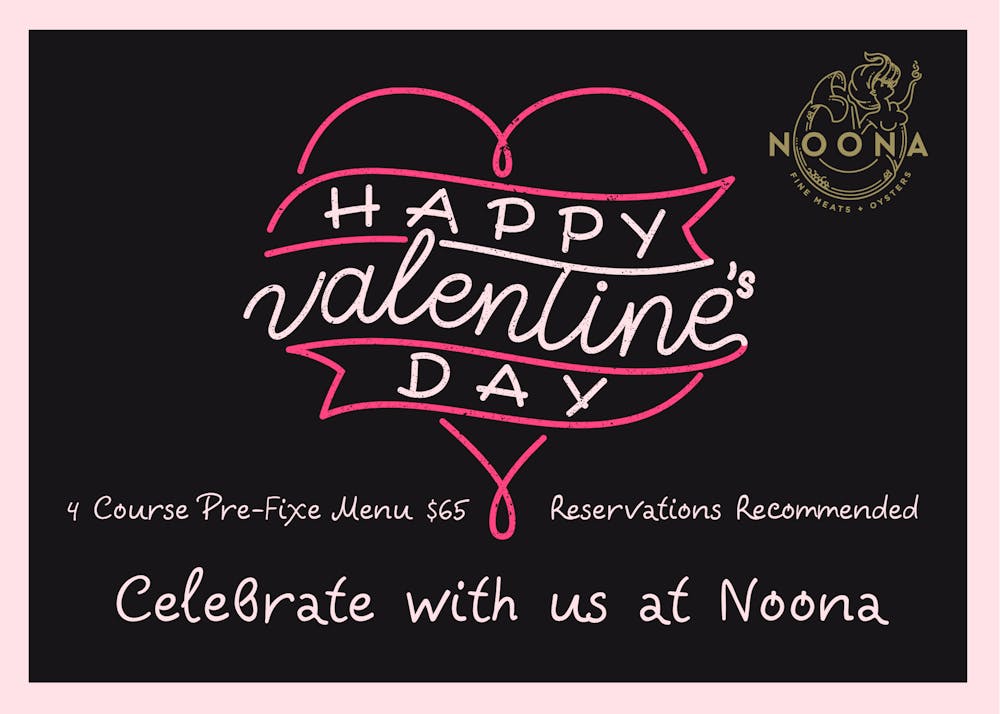 The AJC proclaims says "Noona is fresh, tasty and refreshing. A cross-cultural marriage of dining concepts, ingredients and even cooking techniques that feels right for the time." 3 of 4 stars (Excellent)
At Noona Meat & Seafood located in Parsons Alley in Historic Downtown Duluth, we showcase New American cuisine highlighted by fine meats & seafood favorites. We take pride in sourcing from the Southeast's best purveyors. The restaurant is centered around an open kitchen with a 9 foot wood burning hearth.
Our Bar features craft beers, inspired signature and classic prohibition era cocktails and an extensive and interesting wine list.
Noona offers a weekday (Sunday through Thursday) happy hour from 5-7pm and half off Wine Wednesday's.
Noona is a 2018 and 2019 Opentable Diners' Choice Award Winner. The Gwinnett Daily Post hailed Noona as the "Best Happy Hour" in 2019.
Chef A.J. Binion is the executive chef at Noona. His prior experiences include Rathbun's in Atlanta.
When visiting Noona, We recommending parking at the Parson's Alley Lot or secondarily by Coleman Middle School or on Hill St.
For additional Parking information, please visit City of Duluth Parking.
https://www.duluthga.net/community/main_street.php
Slide 1 of 10
Slide 2 of 10
Slide 3 of 10
Slide 4 of 10
Slide 5 of 10
Slide 6 of 10
Slide 7 of 10
Slide 8 of 10
Slide 9 of 10
Slide 10 of 10